XYX-3 is a kind of trailer mounted water well drilling rig and core drill equipment that can meet your needs of shallow or medium depth hole drilling. And the main use of the XYX-3 trailer mounted water well drilling rig is diamond drilling. As a spindle water well and core drilling machine, the engine of the drilling rig can be equipped with an electric motor or diesel motor. With simple structure and easy operation system, the YG XYX-3 trailer mounted water well drill rig wins its own market among our domestic and foreign customers in America, Honduras, South Africa, Sri Lanka, Bolivia, Domini, Ghana, Pakistan, Afghanistan, Norway, Australia, Philippines, Lizhi, Ethiopia, Mexico, Qatar, Vietnam, etc.
Trailer Mounted Water Well Drilling Rigs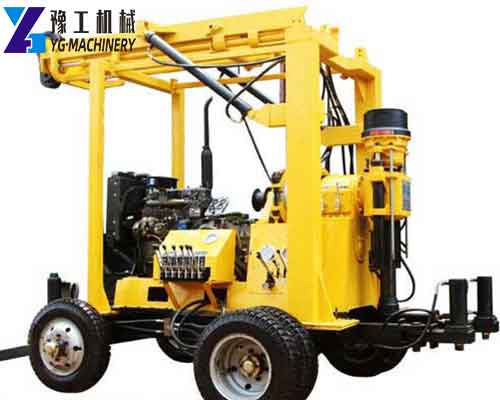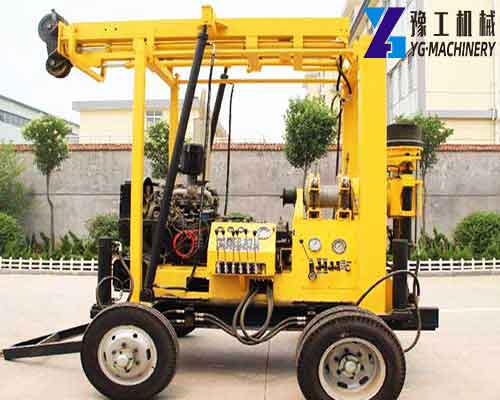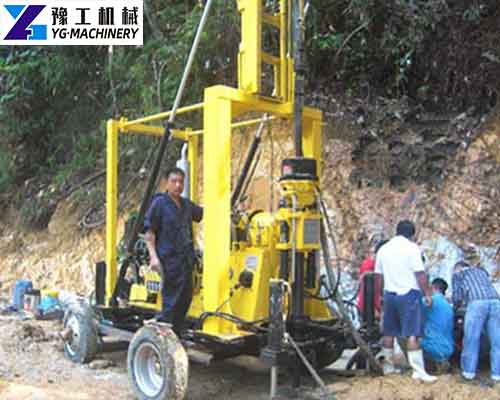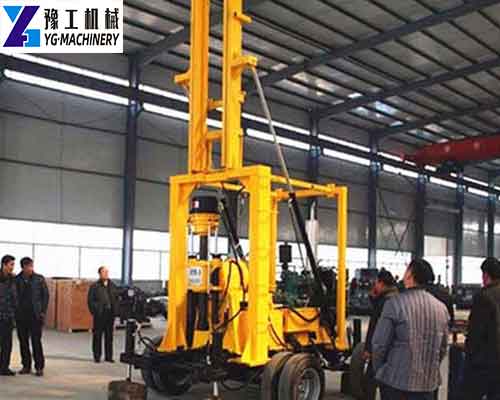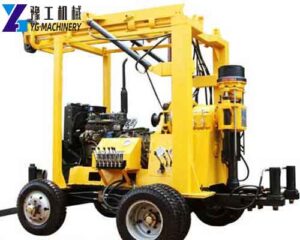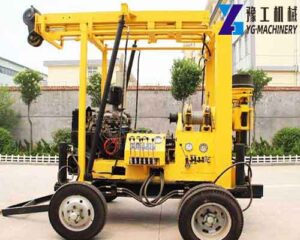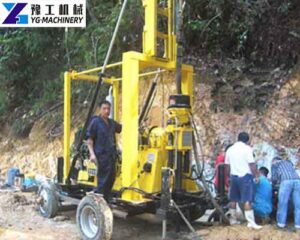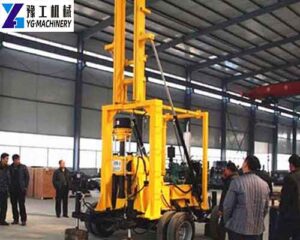 Technical Parameter of XYX-3 Trailer Mounted Water Well Drilling Rig
Whole Drilling Rig Parameter

Drilling Depth
600m
Max. Open Hole Diameter
300mm
End Hole Diameter
75mm
Drilling Rod Diameter
60mm
Drilling Angle
900-650

Vertical Shaft

Speed
Forward 30-1050r/min  Backward 29-137r/min
Stroke
560mm
Inner Diameter
96mm
Lifting Capacity
60KN

Main Winch

Max. Pull Capacity
40KN
Max. Pull Speed
0-45m/min
Wire Rope Diameter
14mm
Wire Rope Length
30m
Hug Tollgate Belt Width
90mm

Minor Winch

Reel Diameter
140mm
Wire Rope Diameter
6mm
Wire Rope Length
450m
Type
Horizontal Triplex BW-250 mud pump
Displacement
250 L/min
Work Pressure
7 Mpa
Water Inlet Pipe Diameter
75mm
Water Outlet Pipe Diameter
50mm

Gear Oil Pump

Duplex Gear Oil Pump
CBF-F63/25
Front Displacement and Pressure
63 L/min   20Mpa
Back Displacement and Pressure
25 L/min   20Mpa

Power

Diesel Engine
37KW

Wheel Undercarriage

Chassis Loading
3T
Chassis Length
2.6m
Chassis Width
2m
Max. High Crawler
0.6m

Drill Mast

Rated Load
18T
Height
6.5m
Ten Outstanding Features of XYX-3 Trailer Mounted Water Well Drilling Rigs
1. Equipped with hydraulic high outrigger which makes the water well drilling machine easy-detached, easy transportation, and stable-support.
2. An automatic drill mast lifting system ensures the safety and maximizes users' benefits.
3. Hydraulic oil pressure feed device which highly improves the drilling efficiency.
4. A smart pressure gauge enables you to deserve the condition of the deep drilling hole.
5. The diesel engine provides enormous power for borehole drilling.
6. Lightweight, easy-operation, detachment-friendly, and low maintenance rate.
7. Soft soil and hard rock are easy to work under this drilling rig.
8. Wide applications and excellent performance in every drilling condition.
9. Two-year warranty.
10. Complete after-sales services system and lifelong technical help.
Wide Applications of XYX-3 Water Well Drilling Machine
1.Outdoor geotechnical exploration.
2.Hydropower project.
3.Road, railway, highway, port, and bridge construction.
4.Water well drilling.
5.Building project.