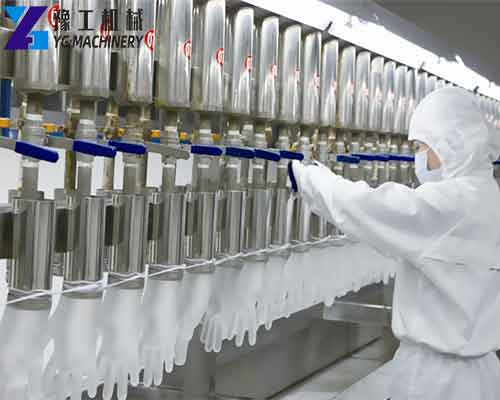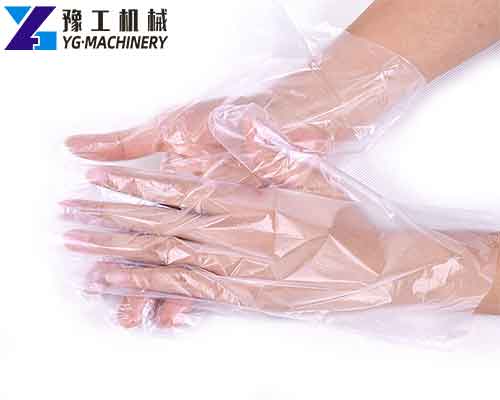 Due to the development of the world's epidemic situation, it is still in an uncontrolled state. Our company has a complete production line of glove making machine. According to the material of the gloves, it is divided into latex gloves, nitrile gloves, polyethylene (PE) gloves, and polyvinyl chloride (PVC) gloves. If you are interested in our machine, please contact us as soon as possible. Of course, we also sell protective gloves, protective clothing, warming guns, and other protective products.
YG Disposable Glove Making Machine:
Stable performance disposable gloves equipment PVC liquid latex nitrile semi-dipping machinery production line.
Applicable material: PVC liquid\latex\nitrile
Parameter:
| | |
| --- | --- |
|  Machine size |  110*1.8*16*10 layers*2 |
|  Power |  190kw/hr |
|  Speed |  25m/min |
|  Production |  30,000pcs/hr |
|  Heat consumption |  3,800,000cal/hr |
|  Mould |  22,000pcs |
|  Chain |  1,100m |
Scope of Application:
Glove making machine is suitable for production lines and assembly lines, such as household appliances, electronics, food, toys, plastics, pharmaceuticals and other industries, the assembly of finished products runs smoothly and stably, greatly improving work efficiency.
The product could be used in all hotels, health care, family life, paint protection, beauty salons, garden working, and clear working. The machine is suitable for HDPE plastic film, and it's the ideal machine for producing the glove that the fast-food restaurant needs, like KFC, etc.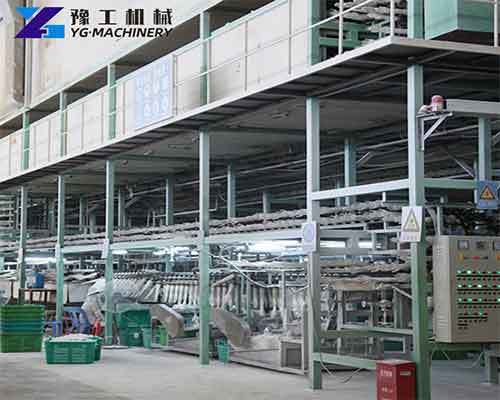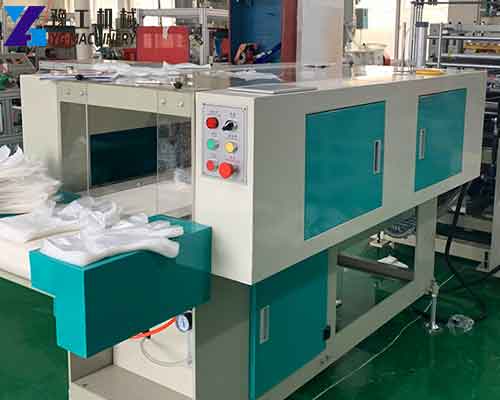 Process:
Impregnation: The hand mold is impregnated in the original liquid in an orderly manner.
Lip curl: Use a moderate and subtle angle to make a curl on the cuff of the glove.
Release: Workers quickly and orderly remove the completed gloves from the hand mold.
Packaging: After physical inspection and visual inspection, various types of packaging.
Feature:
1. Adopt the most advanced gloves production technology and production process layout, product qualification rate is more than 99%.
2. Imported surfactant solidifier, the finished membrane is uniform, no powder mold release.
3. The introduction of foreign advanced transmission main chain structure, chain little resistance during operation, Production of high speed, stable operation.
4. A main motor drag, solve the drag, difficult to synchronize, fault point, difficult maintenance, and other issues.
5. Mold directional, machine printing technology.
6. A variety of specifications of production, on the same edge automatic adjustment.
7. Can design according to the needs of customers of different length, height, cost models.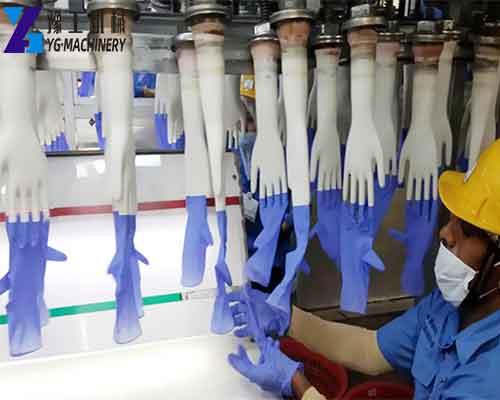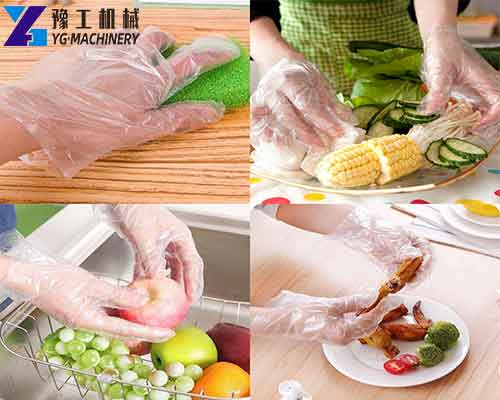 Types of Gloves:
Nitrile gloves: It is an ideal substitute for latex gloves. It is highly suitable for the skin of the hand and has super comfort. It is suitable for non-sterile operations with high-risk contact with blood or body fluids; involving the operation of sharps, handling cytotoxic substances, and disinfectants. According to the nature of work, it can be divided into sterilized gloves and non-sterile gloves, and non-sterile gloves are divided into cleaning inspection gloves and housekeeping gloves.
Surgical sterilization gloves: sterile disposable use. It is mainly used for operations with high sterility requirements such as surgical operations, childbirth, central catheter placement, and total parenteral nutrition solution preparation.
Clean inspection gloves: clean non-sterile, one-time use. Used for direct or indirect contact with the patient's blood, body fluids, secretions, excreta, and objects that are obviously contaminated by body fluids.
Housekeeping gloves: clean and reusable. It is mainly used for cleaning the surface of the environment without using direct contact with the human body.
Glove Package Machine:
This machine is suitable for automatic packaging of sheet materials; plastic film paper-plastic composite film, aluminum-plastic composite film, and other materials; alternative packaging medical dressings, medical-surgical materials, latex gloves, etc. Owning this machine can reduce a lot of manpower and improve work efficiency.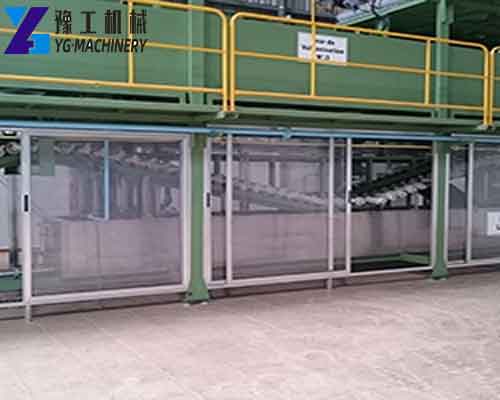 Disposable Glove Making Machine Manufacturer-YG Machinery
YG Machinery has a superb technical team, which can design, develop, and manufacture one-to-one according to market demand and customer samples. Reliable quality enjoys an excellent reputation in the industry. The melt-blown cloth machines and mask machines designed and manufactured by our company are in short supply, with high mechanical stability and mature technology. At present, there are customers from various countries, including Mexico, Malaysia, Uganda, Italy, the United States, and other countries. After-sales technical support is excellent, to ensure that your equipment is successfully started production in the local country, and to the greatest extent simplify the various difficulties you encounter when setting up the factory.
We can sell complete production lines, as well as spare parts machines. Coagulant dipping tank, coagulant drying mechanism, edge rolling mechanism, ball grinder, water purifier, oil boiler, boiler room install tools, Latex Surgical/Exam Glove Dipping Machine, Auto stripper, glove package machine. If you are interested in our glove making machine, please contact us.